Recipes That Cook While You Do Yardwork? Troy-Bilt's LOW, SLOW, & MOW Campaign Provides Timesaving Solutions for Homeowners
April 24, 2023
To kick off the spring season, Troy-Bilt is partnering with popular social personalities to share slow-cook dinner recipes to make while also accomplishing outdoor yardwork projects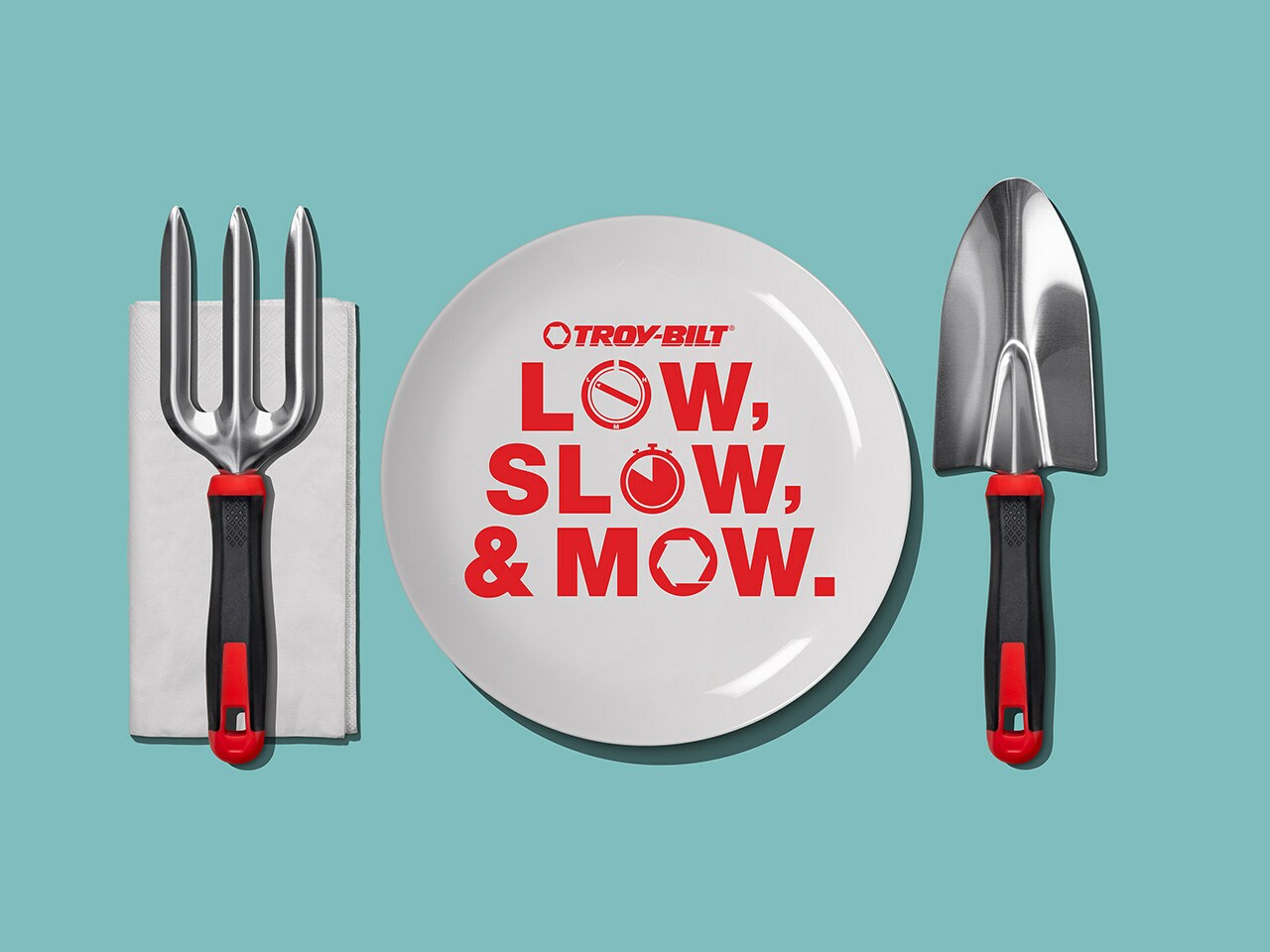 CLEVELAND, Ohio – April 24, 2023 – For many homeowners strapped for time, it can be difficult to find the time to do it all and do it all well. Clean the house, make dinner, tend the yard – the to-do list goes on and on with household projects. This spring, Troy-Bilt®, part of Stanley Black & Decker, a leading manufacturer of outdoor power equipment, helps solve the dilemma with the introduction of its Low, Slow, & Mow campaign. Beginning April 24, Troy-Bilt is partnering with three popular DIY and home experts to share recipes that can roast, simmer, or smoke while they tackle various lawn and garden tasks.
The Low, Slow, & Mow campaign features easy and delectable recipes, along with links to videos on TikTok or Instagram, where experts show how they prepare each recipe before getting outdoors to complete a lawn or gardening project while dinner cooks. The recipes are designed to cook slowly, providing homeowners with meal ideas that allow them to get yardwork done, too.
"The Low, Slow, & Mow campaign is all about timesaving solutions for homeowners," said Barbara Roueche, Troy-Bilt Brand Manager, Stanley Black & Decker Outdoor. "Troy-Bilt's mission is to make yardwork more enjoyable, and a big part of that mission is providing the resources to make it easy, even when you're pressed for time. Just as Troy-Bilt offers expertise and outdoor power tools to make yardwork less of a chore, the Low, Slow, & Mow campaign helps homeowners save valuable time, particularly on busy weekends."
Partnerships with Top Cooking and DIY Experts
Troy-Bilt's Low, Slow, & Mow partners have collectively amassed close to 4 million followers who are dedicated to their popular cooking, home, and DIY videos and posts on TikTok and Instagram:
Matthew Bounds, creator of Your Barefoot Neighbor at @yourbarefootneighbor, shares favorite hometown recipes, landscaping tips, and DIY projects.
Lisa Chun, creator of Our Home Becoming at @ourhome.becoming, shares inspiring recipes and DIY project ideas.
Heather Bell, creator of Just the Bells at @justthebells10, shares quick and easy recipe ideas and cooking tips for families.
Recipes That Cook While You Do Yardwork
Homeowners can select from a variety of recipes at the Low, Slow, & Mow landing page: www.lowslowandmow.com. The site provides recipe overviews, influencer bios, and recommended lawn and garden projects, with links to Troy-Bilt equipment to help you with those projects. Additional recipes from influencers will be added throughout the campaign.
Low, Slow, & Mow can also be accessed through the Amazon Alexa voice assistant. Simply say, "Alexa, open Low, Slow, & Mow," and Alexa will ask for permission to send the Low, Slow, & Mow landing page link right to your phone. The Alexa skill will also remind users to check back to see the most recent recipes as they are added.
From the landing page, select a recipe to be directed to a detail page with step-by-step instructions and a link to the respective how-to videos on TikTok or Instagram. Expected cook times are provided with each recipe to indicate how much time you'll have to work in the yard. Cooking equipment and appliances needed to cook the recipe slowly are listed, too.
Also included with each recipe are pairings for suggested yardwork tasks to consider tackling while each meal cooks. For example, homeowners might be able to get the entire lawn mowed during the two-plus hours of cooking time needed for Matthew Bounds' Potato, Cheese, and Sausage Soup. And should homeowners need how-to expertise for related yardwork projects, links to relevant articles on troybilt.com are included as well.
ABOUT TROY-BILT®
In 1937, Troy-Bilt, a Stanley Black & Decker brand, introduced the first American-made rototiller and has since expanded its legendary expertise and durable product line to create a complete selection of the industry's finest lawn and garden tools that won't let you down. The company's award-winning product line includes top-quality tractors, mowers, tillers, cultivators, trimmers, snow blowers, and other outdoor power tools. Troy-Bilt machines are built to last and engineered to take on the toughest challenges to make jobs simpler and safer. Headquartered in Valley City, Ohio, and with multiple manufacturing locations across the country, including Ohio, Tennessee, and Mississippi, Troy-Bilt is committed to the communities it's a part of and keeping America working as hard as it can. For more information, visit troybilt.com.
ABOUT STANLEY BLACK & DECKER
Headquartered in the USA, Stanley Black & Decker (NYSE: SWK) is a worldwide leader in tools and outdoor operating manufacturing facilities worldwide. Guided by its purpose – for those who make the world – the company's more than 50,000 diverse and high-performing employees produce innovative, award-winning power tools, hand tools, storage, digital tool solutions, lifestyle products, outdoor products, engineered fasteners, and other industrial equipment to support the world's makers, creators, tradespeople, and builders. The company's iconic brands include DEWALT®, BLACK+DECKER®, CRAFTSMAN®, STANLEY®, CUB CADET®, HUSTLER®, and TROY-BILT®. Recognized for its leadership in environmental, social, and governance (ESG), Stanley Black & Decker strives to be a force for good in support of its communities, employees, customers, and other stakeholders. To learn more, visit: www.stanleyblackanddecker.com.
FOR MORE INFORMATION, CONTACT:
Ashley Wroblewski
Stanley Black & Decker
414-217-6198
Ashley.Wroblewski@sbdinc.com